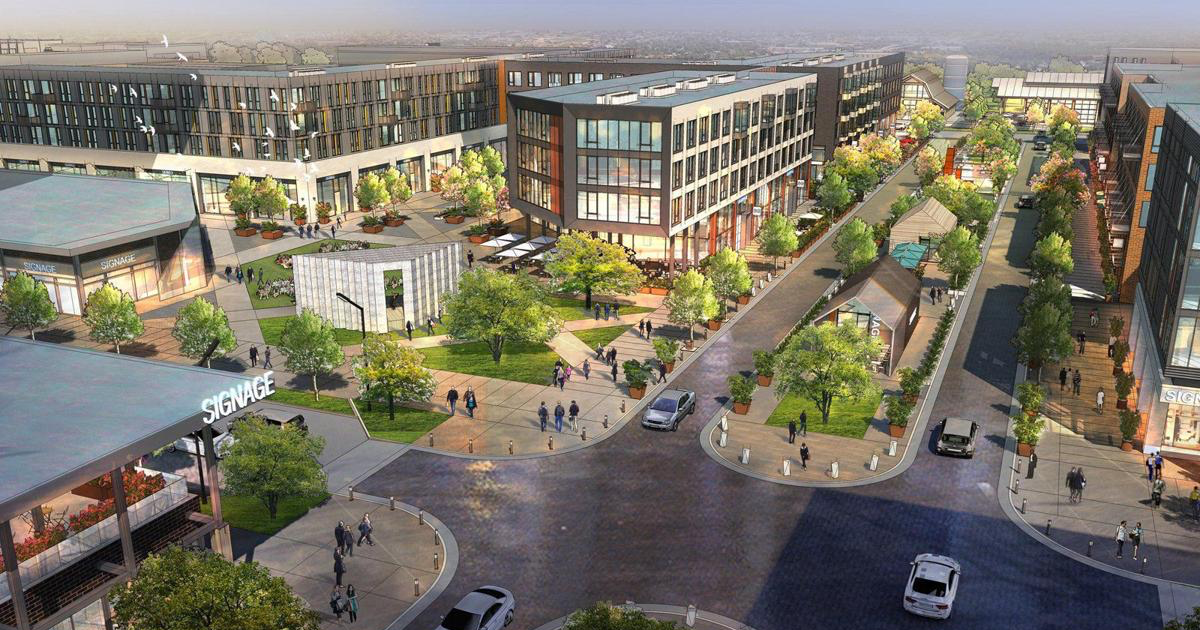 Applied Underwriters celebrates work on Heartwood Preserve development, touts natural features


More streets have been laid. More steel framing is rising. Saturday, hundreds of Applied Underwriters employees each planted a tree.
And on Tuesday, the corporate driver behind the 500-acre Heartwood Preserve redevelopment visited Omaha to officially dedicate the mixed-use project announced in 2016.
"Welcome to Omaha's big new family room," Steve Menzies, founder of the California-based Applied Underwriters, told a few dozen guests, including Mayor Jean Stothert and other city and business officials. He said it is where people "will work, play, relax, study and communicate with each other."
Menzies described the project southwest of 144th Street and West Dodge Road as a strategic investment by his company in a city where the company's key operations and most of Applied workers are based.
More than 500 local Applied employees, currently in three different buildings, are expected to move into their new office campus in early 2022.
Menzies highlighted the varied residential, commercial and recreational uses to be offered at the tract that previously was green space and farmland.
A rendering of Heartwood Preserve, planned for southwest of 144th Street and West Dodge Road, with at least 10,000 new trees, green space and hiking and biking trails.
MEYER STUDIO LAND ARCHITECTS
Tuesday's gathering also featured speakers, including landscape architect David Meyer. He talked about the mindful way developers set out to dot the area with natural prairie grasses, trees, trails, parks, water features — places to contemplate and celebrate.
"There will be wonderful places to experience the seasons," Meyer said.
Menzies said his aim, while transforming the site into an urban residential and commercial hub, was to try to conserve the beauty and respect the land. Thus the name: Heartwood Preserve.
Early on, the overall redevelopment was referred to as West Farm, a nod to Boys Town's former use of the land.
The project, stretching from Dodge south past Pacific Street and from 144th Street to 153rd Street, will have about 80 acres of green space, eight miles of bike paths and open trails, and more than 10,000 newly planted trees, company officials said.
In addition, the project is to include hotel rooms, retailers, houses, apartments, senior living and H&H Automotive dealerships. Office buildings are to be built for other companies, including already announced projects for Valmont Industries and Carson Group.
Construction of the Applied Underwriters operations campus in west Omaha's Heartwood Preserve is to restart in June. The owner halted on-site work months ago amid concerns about the COVID outbreak and to reassess design aspects.
HOLLAND BASHAM ARCHITECTS, STUDIOS ARCHITECTS
The Applied campus is to cover about 50 acres south of Pacific Street. The first phase will be about 260,000 square feet and house more than 500 employees. But there will be room at the site for another wing and hundreds more employees, said Bart Emanuel, director of development and construction at Applied, a workers' compensation insurer. Omaha's Berkshire Hathaway Inc. is in the process of selling its interest in Applied Underwriters.
Applied's facility will have 1,048 underground parking stalls and feature wide-open work spaces, Emanuel said.
It will be wrapped by electrochrome shading glass and feature an 80-foot atrium that lets in natural light.
Emanuel said Applied expects to announce more Heartwood tenants soon.