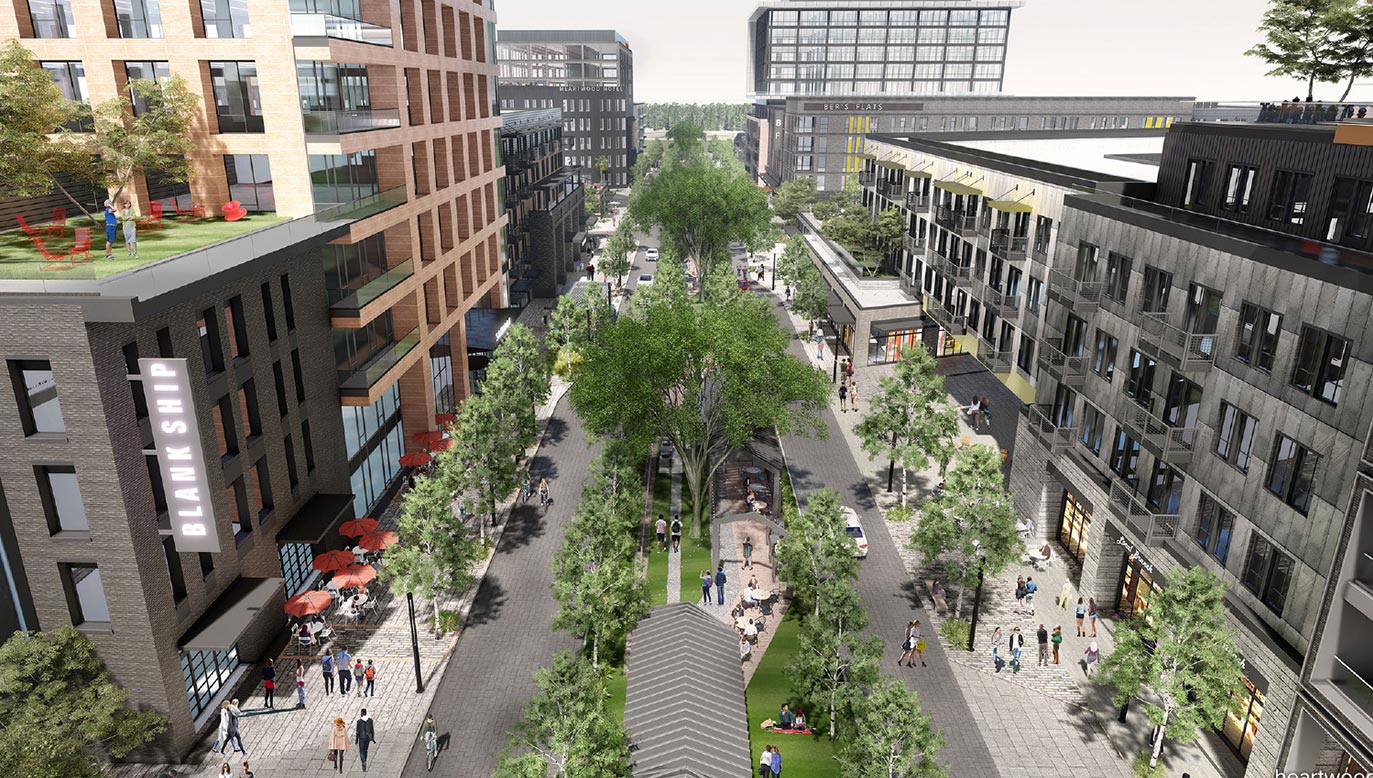 Applied Underwriters® Selects Lanoha Real Estate to Develop the Row at Heartwood Preserve

Local company to help create 'epicenter of activity' within one of the largest urban developments in the U.S.
August 2, 2020 (Omaha, NE) – Applied Underwriters, Inc., a leading global risk services firm and owner of Omaha's Heartwood Preserve, has selected Lanoha Real Estate Company, Inc., a local vertically-integrated real estate firm, to develop The Row at Heartwood Preserve.
Heartwood Preserve, situated at one of the fastest-growing areas in the region, is a 500-acre development that will have roughly 80 acres devoted to green space, eight miles of bike paths and open trails, and over 10,000 newly planted trees. The Row, a centerpiece of Heartwood Preserve, is a carefully curated landmark that will provide the ultimate living, working, shopping, and entertainment experiences in the Midwest.
Easily accessible from anywhere within Heartwood Preserve, The Row will host a wide array of retail options including an outdoor market featuring seasonal fare from local and national vendors, an indoor dry goods market, a craft brewery and distillery, and multiple independent boutiques and national retailers.
"Diners will find options suitable for any palate – from local, farm-to-table eateries to nationally recognized chain options," said Bart Emanuel, Director of Development and Construction at Applied Underwriters. "Shoppers will be endlessly delighted by the numerous different retail experiences. This area represents the future of city living in Omaha. It will be full of life: home to a variety of condos, apartments, office spaces, and a 180-room boutique hotel, alongside many entertainment and retail options."
"Only with the commitment of Applied Underwriters is such a grand vision feasible," said Jason P. Lanoha, President of Lanoha Real Estate Company. "We are truly honored to be associated with Applied and will ensure we add to the fabric of Heartwood to deliver an experience unlike anything that currently exists in Omaha."
Once completed, Heartwood Row will represent a $500 million investment and according to Mr. Emanuel, "will become home to companies who seek to attract the best talent, people who want the finest in living situations, a well-appointed hotel experience, and the best of retail, dining, and entertainment opportunities in the area."
About Heartwood Preserve
Located in Omaha, NE, Heartwood Preserve is a 500-acre development with roughly 80 acres devoted to green space, eight miles of bike paths and open trails, and over 10,000 newly planted trees. Offering a wide variety of retail, commercial, residential, and recreational facilities on an environmentally observant landscape, Heartwood Preserve is designed to become a top destination for the greater Omaha area and surrounding region.
About Lanoha Real Estate Company
Founded in 1988, Lanoha Real Estate Company is a diversified, vertically integrated company with a focus on long-term value creation.
About Applied Underwriters
Applied Underwriters is a global risk services firm that helps businesses, governments, and people manage uncertainty through its business services, insurance, and reinsurance solutions. As a company, Applied Underwriters has been distinguished by its innovative approaches to client care and by its strong financial strength. Applied Underwriters serves its' customers throughout the U.S. from its operational headquarters in Omaha, Nebraska.
For more information, please contact:
Bart Emanuel
Applied Underwriters
bemanuel@auw.com
Jason P. Lanoha
Lanoha Real Estate Company
jlanoha@lanoha.com