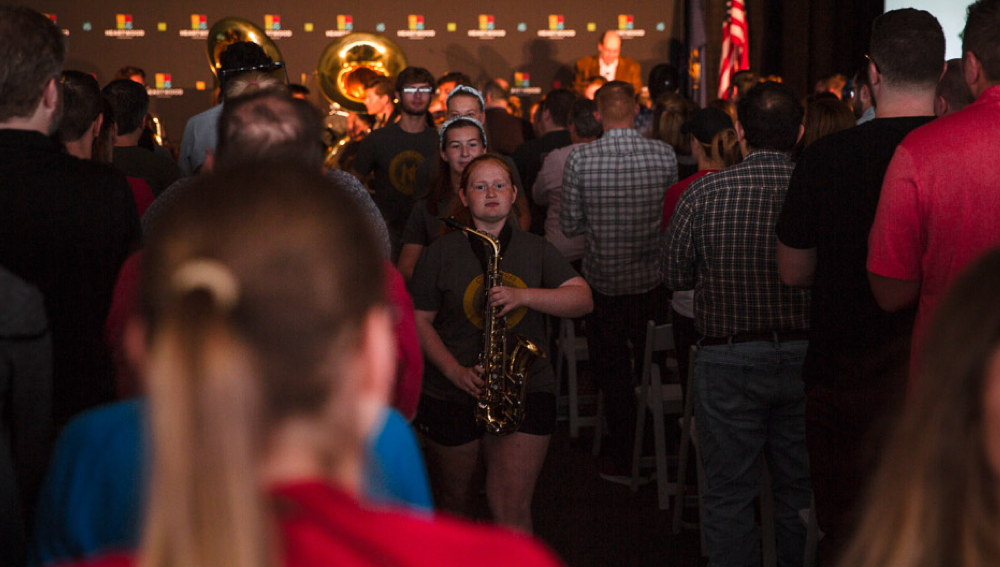 Applied Underwriters® Sets Official Dedication of Heartwood Preserve, a 500-Acre Mixed-Use Development in West Omaha
Site to house Applied's new operations campus, 300 room hotel, senior lifestyle village, top retailers, variously styled and sized residential dwellings, 80 acres devoted to trails and green space; as one of nation's largest urban developments.
(Omaha, Neb.) – Applied Underwriters, Inc., a leading global risk services firm, will announce the opening of Heartwood Preserve, one of the largest urban developments in the United States, currently under construction in West Omaha.
An on-site Dedication Ceremony is set for Tuesday, September 24th at 11:00 a.m. and is expected to
include many guests from State, City, and County government, local community and business leaders, and professionals who have played a role in planning the highly anticipated development.
Heartwood Preserve will be situated at one of the busiest areas in the region, from Dodge Street south past Pacific Street and from 144th Street as far west as 153rd Street. The 500-acre development will have roughly 80 acres devoted to green space, eight miles of bike paths and open trails, and over 10,000 newly planted trees. Offering a wide variety of retail, commercial, residential, and recreational facilities on an environmentally observant landscape, Heartwood Preserve is designed to become a top destination for the greater Omaha area and surrounding region.
Applied Underwriters, whose operations campus is currently located in Omaha, will move into its new quarters in early 2022. The Company's new location will house up to 2,000 Applied employees. Other enterprises constructing corporate centers in Heartwood Preserve include Valmont Industries, Carson Group, and Avamere, along with retailers such as H&H Automotive and others.
During a staff dedication ceremony held earlier on the site, each of the Company's employees planted a tree in their honor, which will live among the 10,000 to be planted at Heartwood Preserve. Mr. Steve Menzies, Founder, Chairman and CEO of Applied Underwriters, stated: "This planting underlines the great importance our Company places upon responsible environmental citizenship and upon preservation of nature's bounty. To us, proper development of Heartwood Preserve implies respect for the land and, by extension, respect for those with whom we share it."
Mr. Menzies, who founded the Company in 1994, described the project as a key strategic investment by Applied in the community's quality of life, in the daily ambience its staff enjoys, and in the overall future of the City. He stated: "We are pleased to introduce one of, if not the largest urban developments of its type in the nation. Omaha's civic and institutional leaders have encouraged us to deliver nothing less than a beautiful destination. To us at Applied Underwriters, Heartwood Preserve is a way of saying 'thank you' to our neighbors, friends, staff, and fellow businesses that advance the economy of this great city and state. Omaha has been good to us, from the exceptional talent and devotion of our staff here, to the friendship of the community's leaders, the cultural and arts community, and businesses across the city."
Mr. Bart Emanuel, Director of Development and Construction at Applied Underwriters, noted: "From the very beginning, we approached the design and build-out of this site to preserve nature through intelligent design. Heartwood Preserve will house top retail, commercial, varied residential, and recreational facilities on an environmentally responsible landscape that includes miles of trails, large open spaces, and literally over ten thousand new trees." He added: "Heartwood Preserve is structured to become an important — and beautiful — destination point for Omaha and its surrounding region."
Mr. Ryan Haller, Chief Development Officer of Avamere, who plans to open Ovation, a 300-unit active adult lifestyle village for independent living, assisted living, and memory care noted: "When Avamere's leaders saw the lifestyle advantages being offered at Heartwood — especially the outdoor spaces and the treatment of the environment itself — we decided to become part of it and look forward to the day when our seniors take residence here and begin to enjoy all of the amazing amenities."
Another recently announced occupant, Carson Group, sees the lifestyle benefits and multi-use space as the ideal environment for the firm's new national headquarters. Mr. Ron Carson, founder and CEO of Carson Group, stated: "Omaha is the secret to our success in attracting bright, trustworthy people who have that hard-to-find midwestern work ethic. As one of the first corporate anchors in Heartwood Preserve in early 2021, we feel this space couldn't be better in offering our fast-growing workforce so much within steps of the office. It gave us everything we were looking for to symbolize our next chapter as a nationally recognized financial services firm."
Mr. Steve Hinchcliff, President and CEO of H&H Automotive noted: "Our move to Heartwood Preserve increases convenience for our customers. Added to easy on/easy off Dodge street access, we're pleased to be the first business to open at Heartwood Preserve in 2020."
Heartwood Preserve has continued to gain strong interest among prospective occupants, Mr. Emanuel noted, saying: "We will have other announcements shortly, as negotiations continue."
According to Mr. Emanuel, work on Heartwood Preserve is well underway and is expected to be concluded in sections over the next several years with 2021 estimated for first occupancy.
For further information, or to set interviews please contact:
Debbie Hilt
P: (402) 614-3000
C: (402) 350-5222
E: debbie@egintegrated.com