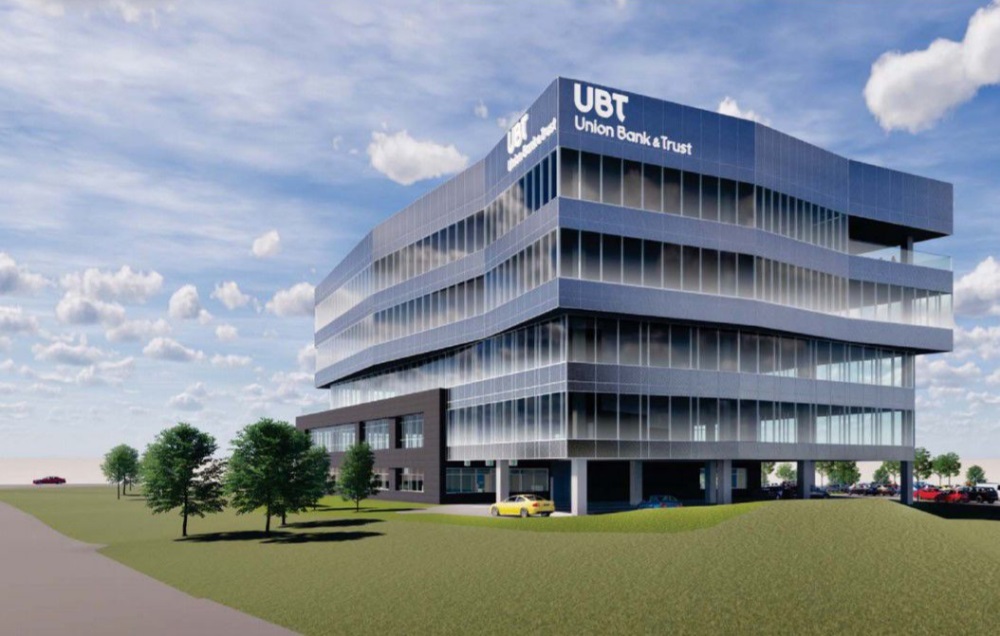 Bank aims to raise profile in west Omaha with 5-story office building at Heartwood Preserve​


A five-story office building featuring two outdoor terraces is coming to a corner of 144th Street and West Dodge Road —  a visible sign that Lincoln-based Union Bank & Trust aims to expand its profile in the Omaha area.
"It's all about brand awareness," said Tom Weinandt, Omaha president of UBT. "The building will be something that draws attention."
Bank officials declined to reveal their investment in the 137,000-square-foot structure on five acres of the emerging Heartwood Preserve mixed-use campus.
It will be a neighbor to Carson Group's headquarters, which is under construction. Elsewhere on the sprawling Heartwood campus will be other corporate office hubs, retailers, housing, outdoor entertainment and trails.
UBT's construction is to start in the fall, with an anticipated opening in 2022.
The bank will occupy the lobby and other space on the first and fifth floors. Lincoln-based Nelnet plans to rent two floors, Weinandt said.
The UBT name is to be emblazoned on the complex and is intended to boost market share as well as recruitment efforts.
The bank's other Omaha site, which opened in 2005 at 177th Street and West Center Road, will remain. Both will offer a full range of services, including mortgage and commercial loans, trust and investment business.
"We felt a large commitment like this is going to make more customers and future employees realize that Union Bank & Trust is committed to Omaha," Weinandt said.
Among the building's amenities is a nearly 5,000-square-foot third-floor terrace that will be a common area. The fifth floor will have a smaller terrace for UBT. Weinandt expects about 40 bank employees to be based at the new site.
With a history dating to 1917, UBT was founded as Farmer's State Bank, and its officials describe it today as the third-largest privately owned bank in Nebraska. It's owned by Nebraska's Dunlap family.
A growth spurt in the past decade took the bank from $2.5 billion to $5.4 billion in assets, and $8.5 billion to $27.5 billion in trust assets, Weinandt said. UBT has about 950 employees and 38 full-service and loan offices in Nebraska and Kansas.
The brand may be familiar to locals, as the huge sports complex that opened last year near 204th and West Dodge also carries the UBT name. The bank bought naming rights to the $10 million multi-sport facility.
Weinandt said the strategy was to have the UBT facilities close enough to capitalize on name recognition, but far enough apart to serve more west Omaha neighborhoods.