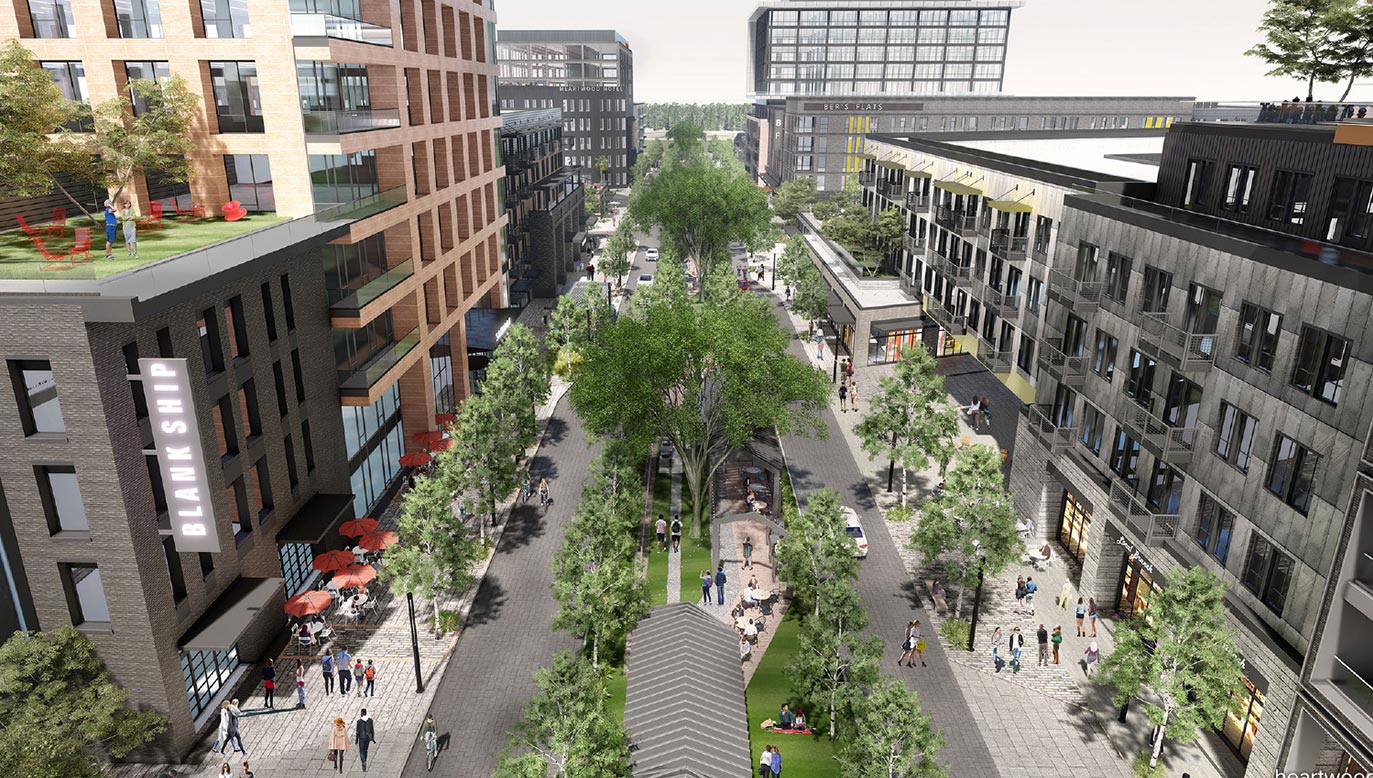 Heartwood Preserve to add "The Row" — a town center of assorted uses


A 40-acre, $500 million town center — dubbed "The Row" — is to start sprouting on the sprawling Heartwood Preserve site in west Omaha next year.
Designed to be the most bustling, pedestrian-magnet piece of the former farm and prairie land now known as Heartwood Preserve, the town center is to be constructed in four phases and densely filled with offices, apartments, stores, diners, hotel rooms and more.
It will center on a main east-west boulevard named Heartwood Row, whose median is to be dotted with pop-up retailers and spots to grab a bite of food or a cocktail. Visitors to the area will be able to shop and dine in intimate back alley spaces or congregate in more visible areas facing water fountains, a big screen TV or other entertainment.
Jason Lanoha, whose Lanoha Real Estate Co. is developing the town center southwest of 144th Street and West Dodge Road, said the aim is to create a mixed-use hub unlike any other in the Midwest.
"You can come through The Row and have 10 different cool and unique experiences," he said. "We're setting this up to be the place for our lifetimes."
Lanoha anticipates construction on the first 8-acre phase to begin next year, though tenants have yet to be secured. He said that his team is talking to interested parties, and that he's not deterred or worried about COVID-19 clogging leasing activity.
Said Lanoha: "In real estate development, we're playing the long game here."
Bennett Ginsberg of CBRE Omaha is part of the team charged with leasing up Heartwood. He said that while the pandemic impact is top of mind, he believes "timing is really good" to seek corporate and smaller business tenants for The Row, whose first structures should be move-in ready in 2023.
Now that Lanoha has firmer plans, he said, marketing efforts will step up, especially to brands in larger cities such as Seattle, Chicago and San Francisco that might be growing increasingly tired of their high traffic and cost of living.
The Row town center — described by Ginsberg as the heartbeat — is the latest project announced for the broader Heartwood Preserve that spans 500 acres between West Dodge, Pine, 153rd and 144th Streets. As a whole, Heartwood is envisioned as a city within a city, created on one of the largest tracts of undeveloped land within Omaha.
Applied Underwriters is the corporate driver who in 2016 bought and combined the farms owned by Boys Town and the DeMarco family. The California-based company wanted an investment opportunity and a place to build a modern campus for its main business operation that has been in Omaha since 1998.
When all Heartwood parcels are called for and developed — a time frame projected to take more than a decade — Applied foresees nearly $1.5 billion in investment at the site, said Bart Emanuel, Applied's national director of development and construction.
He said the company is eager to see the "live-work-shop-play" vision come to life.
"We came in and took this cornfield and teed it up for somebody like Lanoha to come in and be a part of it," Emanuel said.
Applied intends to sell the land for the town center to Lanoha. The initial phase, or block, is to include about 150,000 square feet of Class A office space, 350 apartment units and 75,000 square feet of retail.
Each of the next three blocks will have similar components, Lanoha said, though one will contain a 180-room hotel topped with a swimming pool. Each segment will have its own creative look and personality.
From a bird's-eye view, the town center will be laid out like a huge square divided into four, with the two-lane Heartwood Row running through the middle. Parking garages are to be buried within structures; street levels are to be "active" with retailers.
Though Applied and Noddle Cos. (which no longer serves as master developer of the site) early on touted renderings of Heartwood Preserve and a town center, Emanuel said he considered those to be "broad strokes." He said Lanoha and design partner Merriman Anderson Architects of Dallas refined the "big picture" and created a town center "that can be built in Omaha."
Other major pieces of Heartwood have started to fall into place since Applied assembled the land. Here's an update:
 » Steel is to start rising this month above the Applied Underwriters office facility's underground garage. The construction crane needed is so large, Emanuel said, that nearly 50 semi truckloads will deliver it from out of state. Applied's new worksite campus spans 50 acres, and a 260,000-square-foot office structure is expected to open in 2022. He said Applied has close to 600 area employees.
 » The 18-acre Heartwood Park, just east of The Row town center, is being graded for a 5,000-spectator amphitheater featuring a full band shell. Park events should kick off next year, Emanuel said. Recreational elements to come include an ice skating rink and playgrounds also open to the public. The park is part of the overall 80 acres of green corridors, bike paths and walking trails throughout Heartwood.
» Grading work starts next week on the 45-acre Heartwood Estates area that will feature luxury homes in the million-dollar range. Emanuel said 30 of the 50 lots, which average a half-acre in size, have been claimed with a down payment.
 » Ground work is to begin this fall on a 240-residence section for villas, row houses, duplexes and other less pricey housing options.
 » Soon architectural design companies will be asked to submit bids for a pedestrian bridge over Pacific Street at about 150th Street. Emanuel anticipates construction of the roughly 175-foot-long overpass to begin next year.
Other pieces of Heartwood include an Ovation senior living complex set to open next year and the already-opened ONYX Automotive campus.
Valmont Industries is moving its global headquarters to a 6-acre lot with a new three-story structure set to open in 2021. Union Bank and Trust has announced a five-story office building it will anchor.
Carson Group anticipates moving into its new corporate base next year. Ron Carson, founder, said the headquarter's plans changed somewhat since last year's announcement.
Now, the $64 million office facility is being built as one project rather than in phases, he said. Room remains on the 8-acre parcel to construct a future structure.
"We've got a lot of demand for the space, even in this crazy environment we're in," said Carson, who said he personally will own the workplace structure along with developer Goldenrod Cos. He said at least one tenant has been secured for the part of the complex that will be open for other businesses to lease.
Carson envisions continued growth for his financial services business, which currently has about 235 employees, and views the neighborhood's future big brand retailers, restaurants and park system as a recruiting and retention tool.
"We bring a lot of people in every year for training," Carson said. "The idea they don't ever really need to leave the area was very appealing to us."
Lanoha's previous projects include transformation of the old Millard lumberyard into the mixed-use Lumberyard District; the Bluewater residential community in Valley; and a 14-story residential tower at the Dallas-area Grandscape project. The developer also controls the old Union Pacific block at 14th and Dodge, which still is vacant awaiting a tenant and structure.
At Heartwood, Jason Lanoha said his company was drawn to the opportunity to build from scratch a downtown-like hub within the city limits. He said he was buoyed by Applied's long-term commitment to the property.
"We're pushing in the same direction and have the same vision to make this really, really great."