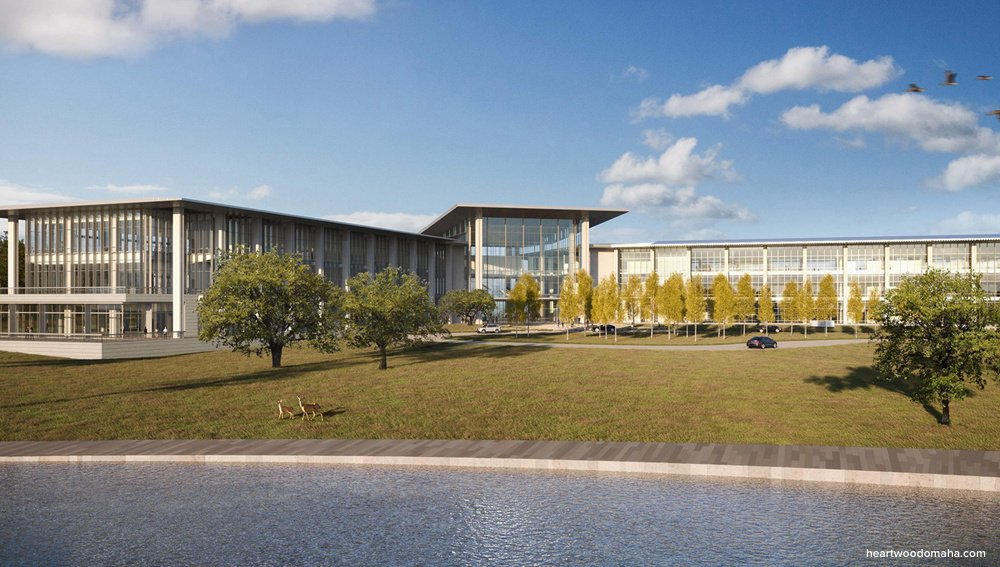 Omaha: Construction on Applied Underwriters' New Heartwood Preserve Corporate Headquarters to Resume June 1 as Pandemic Pause Ends and Workers' Vaccinations Increase

Monday, April 19, 2021 (Omaha, NE) –  Construction will recommence on Applied Underwriters' new corporate headquarters located in Heartwood Preserve, the site of one of the largest urban developments in the United States. The resumption of work on the 260,000 sq. ft. headquarters follows a six month pause occasioned by the pandemic and its implications. The decision to resume construction work was made after carefully observing CDC guidelines, limiting workers' exposure and collaborating with primary contractor, JE Dunn, to ensure that vaccinations are fully accessible to those working on the 50 acre site.
According to Mr. Bart Emanuel, Director of Development and Construction at Applied Underwriters, work on Applied's $200 million corporate headquarters was well under way and can now resume at full speed starting June 1st: "As vaccinations are completed and workers' safety is ensured, we will continue confidently to realize this beautiful, thoughtfully conceived building. We have not stood still in the interim, however, as we have used the time to revisit and reevaluate the office configuration with new understandings and guidelines in view of the pandemic. We continued, as well, to have steel and special glass fabricated, unabated, at remote locations so that installation would be ready and able to be expedited once workers returned safely to the site."
According to Mr. Steve Menzies, Chairman of Applied Underwriters and the originator of the project, the pandemic presented a clear mandate to the Company:
"The good corporate citizenship, that we believe our designs and uses of the whole of Heartwood Preserve embody, had to apply to the workers on our future headquarters site whose wellbeing and safety come before any considerations of our deadlines and goals. As a leading national workers' compensation insurer, with numerous awards that demonstrate our deep concern and excellent care for injured workers, the choice was clear. While our staff at Applied looks forward to their new home within Heartwood, we as professionals feel good that we sided with precaution and used careful risk management and protocols."
For further information contact: Ryan Gerding, Public Relations, at +1 (913) 602-8531 or at press@auw.com.
Applied Underwriters (www.auw.com)
Applied Underwriters® is a global risk services firm that helps businesses and people manage uncertainty through its business services, insurance and reinsurance solutions. As a company, Applied Underwriters has been distinguished by its innovative approaches to client care and by its strong financial strength. Applied Underwriters operates widely throughout the US, UK, EU and Middle East. Its operational headquarters is located in Omaha, Nebraska.
Heartwood Preserve (www.heartwoodomaha.com)
Located in Omaha, NE, Heartwood Preserve is a 500-acre mixed-use urban development with roughly 80 acres devoted to green space, eight miles of bike paths and open trails, and over 10,000 newly planted trees. Offering a wide variety of retail, commercial, residential and recreational facilities on an environmentally observant landscape, Heartwood Preserve is designed to become a top destination for the greater Omaha area and surrounding region.